Possibly another sensory area?
by Stephanie
(Sykesville, MD, USA)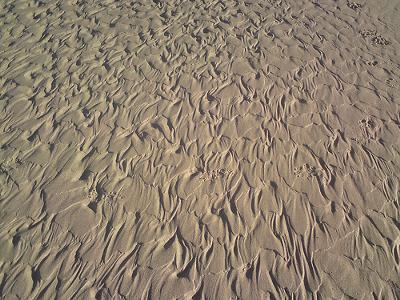 sand
I'm 19 and since I can remember, I have had issues with the visual texture of objects. Most textures do not bother me, but textures such as woodgrain (when the indentations and spaces between the wood fibers are apparent, usually in a perpendicular cross section), the pattern waves create on sand as they draw back into the ocean (especially the texture created by those filtering sandcrabs that leave little holes in the sand), or even a created texture in clay that has no order to it.


I can't quite describe it, so i'll include some photos from google. (for the sand crab one, the crabs themselves DO NOT bother me. just- the shape in the waves and the.... i can't quite describe it. i have a hard time seeing any of these photos without shuddering. actually, it was quite difficult and rather painful to look for them at all). I must include that not ALL textures cause this kind of discomfort. i love the beach, but sometimes the visual texture of the sand truly causes me extreme discomfort. i enjoy looking at wood carvings, but sometimes the grain of the wood simply makes me feel sick. I must impress that, again, the actual texture in the tactile sense does NOT bother me. only in the VISUAL sense.
I'd just like to know if anyone else has any experience with this, if i'm looking into the wrong disorder area, or if i'm simply insane (haha!)